Policy Tools and Guidelines for Inclusive Employment Strategies
Final Policy Workshop
-
Brussels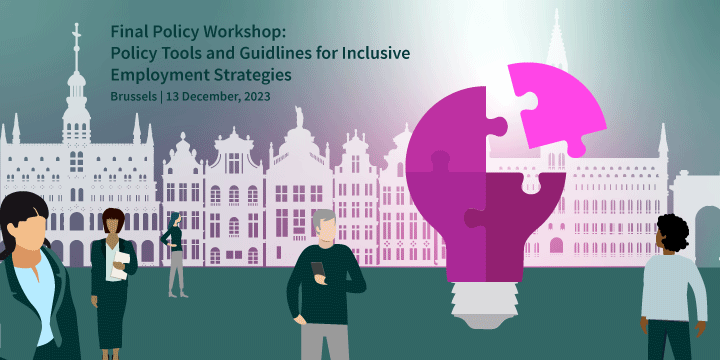 The final policy workshop is designed for the policymakers and key stakeholders that stimulate inclusive labour markets in Europe. The workshop is structured in two parts.
The first part of the workshop aims to present and discuss the policy tools developed throughout the PILLARS project. These tools are expected to assist the policymakers and key stakeholders in ensuring preparedness for an inclusive labour market, while capitalising on the opportunities created by technological transformation (i.e., driven by automation
technologies). Specifically, how to…
Stimulate creation of innovative and inclusive jobs,

Prevent and mitigate job displacement/loss,

Support employers and employees during job transformation,
…following/due to adoption of automation technologies.
The following three tools will be in focus of the discussion:
Pillars Self-Assessment Tool

helps policymakers to assess/measure preparedness of their region/country towards an inclusive labour market.

Pillars Policy Toolkit provides a repository of useful resources for the policymakers and other stakeholders to ensure an inclusive labour market, while supporting technological transformation.

Pillars Policy Guidelines provide step-by-step recommendations for the policymakers on how to design, implement, monitor and evaluate an inclusive employment strategy that accounts for impacts of technological transformation.
The second part of the workshop will be devoted to sharing of the lessons learned across impactful recent/ongoing initiatives on the topic of inclusive labour markets and the future of work. The aim of this part of the workshop is to raise awareness about relevant initiatives and stakeholders, stimulate synergies, collaboration and knowledge sharing.
A few guess speakers will present an overview of their initiatives, achievements, good practices, challenges and other relevant insights. Following the presentations, the discussion will focus on the identification of gaps in knowledge, challenges that need to be tackled, and of potential next steps to stimulate greater inclusion on the labour market in Europe.
Sign up and secure your spot 👇
📧 Contact juanita.garcia@technopolis-group.com