Regional Workshop
Impact of Automation Technologies on the Labour Markets in the Baltic States
-
Riga (Latvia)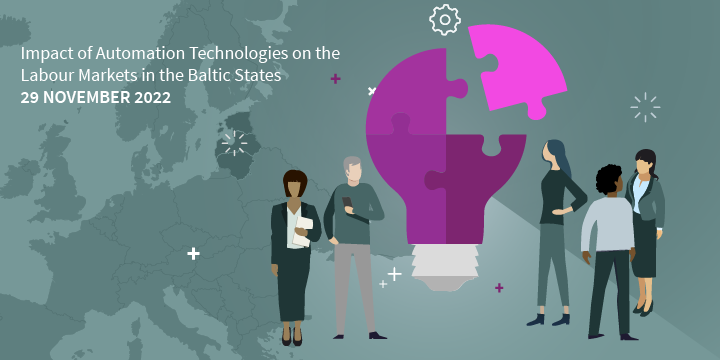 The current workshop aims to discuss the impact of automation technologies on the labour markets in the Baltic states (Estonia, Latvia and Lithuania), and to highlight policies in the region that have been designed to stimulate innovation and inclusion on the labour markets. Specifically, the project team would like to focus on three policy areas during the workshop:
- Innovation/industry (policies that support automation technology development/adoption and job creation),
- Education/training (policies that increase responsiveness of the education/training system to the market/industry needs),
- Migration/labour mobility (policies that increase availability of labour and facilitate occupational labour mobility).
The workshop will take place in Riga (Latvia) on 29th November 2022 between 10:00 and 15:30 (Riga time, GMT+3).
If you are interested to join the workshop, please get in touch with the organizer – Tatjana Guznajeva, Techopolis Group.
Program
10:00 – 10:30
Welcome coffee
Welcome of participants, networking and a coffee
10:30 – 10:35
Opening remarks
Overview of the agenda and housekeeping rules
10:35 – 10:40
Introduction of the PILLARS project
Short description of the PILLARS project
10:40 – 10:55
Tour de Table
Introductions of workshop participants
10:55 – 11:00
Impacts of automation technologies on the labour markets in the Baltic States
Presentation by the PILLARS project team
11:00 – 11:10
Long-term labour market challenges in the Baltic States
Presentation by Dr. Oļegs Krasnopjorovs, Chief Economist at Bank of Latvia, Deputy Director of Latvian Productivity Institute
11:10 – 11:20
Discussion on the state of labour markets and impacts of automation technologies
 11:20 – 11:25
Technological innovation and job creation in the Baltic States
Presentation by the PILLARS project team
11:25 – 11:35
Drivers of innovation and entrepreneurship in Estonia
Presentation by Annely Tank, Advisor at the Ministry of Economic Affairs and Communications for Estonia
11:35 – 12:00
Discussion of success factors and barriers for technological innovation and job creation
12:00 – 12:10
Break
12:15 – 12:25
Education policies in the Baltic States in response to technological transformations
Presentation by the PILLARS project team
12:25 – 12:35
Preparedness of the Estonian education system for the future of work
Presentation by Dr. Raul Eamets, Professor of macroeconomics at the University of Tartu
12:35 – 13:00
Discussion of success factors and barriers for ensuring preparedness of the education/training systems to technological transformations
13:00 – 14:00
Lunch
Lunch provided in the Restaurant Esplanāde at the hotel
14:00 – 14:10
Migration and labour mobility policies in the Baltic states
Presentation by the PILLARS project team
14:10 – 14:20
Labour migration and automation technologies in the Baltic States
Presentation by Dr. Vilmantė Kumpikaitė-Valiūnienė, Professor in Human Resource Management at Kaunas University of Technology
14:20 – 14:45
Discussion of success factors and barriers for the design of effective migration/labour mobility policies in the Baltic states
14:45 – 14:50
Other policies for inclusive labour markets
Presentation by the PILLARS project team
14:50 – 15:00
Universal basic income as an activating policy measure
Presentation by Dr. Jurgen De Wispelaere, Assistant Professor at the Stockholm School of Economics in Riga and Adjunct Professor in Philosophy of Social Policy at Tampere University
15:00 – 15:20
Discussion of other policies for inclusive labour markets
15:20 – 15:30
Closing remarks
Closing remarks by the PILLARS project team